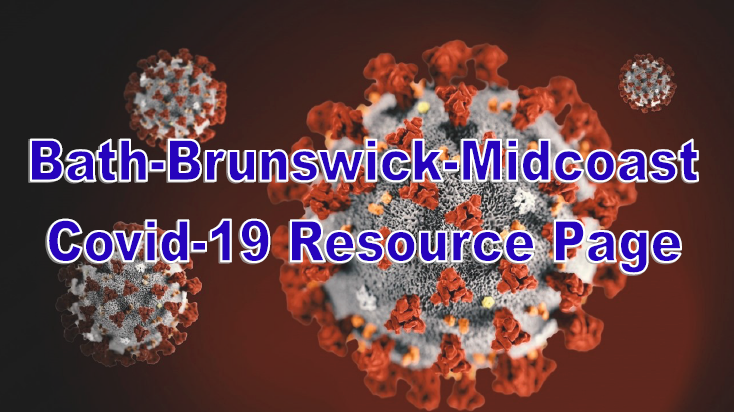 Covid-19 has changed the way so many of us interact, do business and connect. It's been a trying time. But like with all times of great challenge, comes great opportunity, And the SMMC is proud of how our businesses and partner organizations are tackling these challenges and creating support for businesses.
Our role right now is to get you the resources and the information you need and create new programs if they are needed. Here are a list of some resources for the Bath-Brunswick-Midcoast area and other resources from around the state.
Click on the title to be re-directed to these specific pages for more information on that topic.

This page is now organized by topic in the following order:

- Funding for Businesses (including Federal Stimulus through the PPP)
- Unemployment Insurance and Other Department of Labor Postings
- Bath-Brunswick & Midcoast Business Updates
- Local, State and Federal Pronouncements and Orders (UPDATED April 28,2020 with State of Maine Re-opening plan)
- Other Covid-19 Updates

This page will get updated with new information as possible.


Funding for Businesses (including Federal Stimulus through the PPP & More)

Paycheck Protection Program Website (New Information as of 04/06/20)
The Small Business Administration has a site up and running for the Paycheck Protection Program (PPP). Check it out by clicking on the title link. Again these loans (which are 100% payroll forgivable) originate at your preferred SBA-Approved lenders. Scroll down to see our local list of SBA Approved Lenders below & a full definition of the Paycheck Protection Program. This is the $350B Federal Stimulus money for small businesses.

Paycheck Protection Plan Borrower's Application (New Information as of 04/03/20)
A sample application was out earlier this week, but this is the final one as of April 3, 2020. Note there are several minor changes. This is for small businesses, self-employed and some 501(c)3 non-profits (among others) to receive 8 weeks of 100% forgivable loans for payroll for their employees through the SBA (Small Business Administration). This is $350B of Federal stimulus money.

SBA-Approved Lenders Accepting the Paycheck Protection Program Applications (as of 04/06/20)

Androscoggin Bank (existing business customers only)
Atlantic Federal Credit Union (existing customers only)
Bangor Savings
Bar Harbor Bank & Trust
Bath Savings Institution (existing business customers only)
Camden National Bank (existing customers only)
Mechanics Savings (existing customers first, then welcoming new customers)
Machias Savings Bank
Norway Savings Bank (existing customers only)
TD Bank (existing customers only)

What is the Paycheck Protection Program?: SMMC Video (as of 04/02/20)
SMMC Executive Director Cory King created this video on April 1, posted out to the members the next day about the Paycheck Protection Program. This is a great starter video for those small businesses looking for federal stimulus money and wondering what this program is. Or you can read about in the next section.

Stimulus Funds through the SBA (New Information as of 03/30/20)
Paycheck Protection Program ($350B)
The Paycheck Protection Program provides 8 weeks of cash flow assistance through 100 percent guaranteed loans to small employers who maintain their payroll during this emergency. If the employer maintains its payroll, then the portion of the loan used to payroll costs, interest on mortgage obligations, rent, and utilities would be forgiven…

So, the loan is forgiven if it goes to payroll expenses. Here is some more information:

What is the loan amount under the Paycheck Protection Program?
The loan amounts would be up to 250% of the employer's average monthly payroll for two months, or eight weeks (depending on your payroll terms) with a cap at $10M.
Who is eligible for the Paycheck Protection Program?
Lots of employers including:
- Small employers with under 500 employees (and those meeting the SBA standard for that size)
- Self-employed people and 'gig economy workers'
- 501(c)3 and 501(c)19 organizations (typically those organizations are charities, non-profits, and military non-profit organizations), as long as they have under 500 employees
- Other unique cases

Paycheck Protection Plan Resources (3):
- FAQ Sheet Compiled By the U.S. Senate Committee on Small Businesses & Entrepreneurship
This answers numerous questions including forgiveness requirements, and how to apply

- U.S. Chamber of Commerce Calculation Sheet
If you are trying to figure out what your loan amount should be; some overlapping information with the FAQ sheet above but still a worthy read. Both documents are about this same program just different aspects

- Keep American Workers Paid and Employed Act
This is the wording of what was negotiated and presented in a bipartisan manner led by Sen. Collins and three colleagues. This outlines another $27B in programs too.

For information on Small Business Association Disaster Loans, and Finance Authority of Maine loans check out this next section

FAME & SBA Business Loans
Businesses could be eligible for no-interest and low-interest loans though the Small Business Administration (SBA) or Finance Authority of Maine (FAME) products. These critical resources begin with a conversation with your preferred lender as many of the products originate from there. However if you want to look at the products and programs click on the title link for either organization. FAME has 3 business line products AND a loan product for individuals (up to (3) $5K loans for $15K total if eligible) SBA has disaster loans for businesses which do NOT originate at lenders but on their site. Click on their website link above to see those.

Additional Loan Resources:
SBA & FAME Two-Page Loan Summary PDF (put out through Maine DECD)
FAME Loan for Individuals Requirement (put out through Maine DECD)
Unemployment Insurance & Other Department of Labor Postings
MDOL Announces New Unemployment Call-in Schedule (New Information as of 04/06/20)
The Maine Dept. of Labor has announced a new system to reduce phone congestion and wait times when calling to enroll in unemployment.
Monday calls will be for people whose last names begin A-H
Tuesday calls will be for people whose last names begin I-Q
Wednesday calls will be for people whose last name begin R-Z
Thursday & Friday is open to anyone.
The number to call is 1-800-593-7660. For more information on MDOL Unemployment, scroll down for past postings or visit https://www.maine.gov/unemployment/
....
MDOL Introduces Paid Sick Leave- Families First Coronavirus Response Act, Effective April 1
Here is an abstract from Commissioner Fortman with very important new MDOL guidance on this new Paid Sick Leave Act that you need to be aware of:
"On Wednesday, April 1, the new Families First Coronavirus Response Act went into effect. This federal Act requires some employers in Maine to provide their employees with paid sick leave and expanded medical leave for reasons related to COVID-19" ...The full press release can be found by clicking on the title link.

...
Skelton, Taintor & Abbott Provides Employers with Three Assets to Understand the Families First Coronavirus Response Act (FFCRA)
Employment Law specialists, Skelton, Taintor & Abbott have offered us three free resources for you to check out to help answer some questions on the FFRCA (two blogs and a PowerPoint). Thanks Jordan Payne Hay for passing this along! This is in direct response to the new act outline in the previous section.
Blog: Employer Incentives Under the New Federal Coronavirus Act
Blog: Families First Coronavirus Response Act Mandatory Poster Just Released

PowerPoint: Deciphering & Understanding the Families First Coronavirus Response Act (FFCRA)
....
Unemployment Insurance Extension (March 17 posting)
On March 17, 2020 Governor Mills enacted emergency legislation that revises eligibility requirements to include situations not typically covered such as:
- an employer temporarily ceases operation due to COVID-19 or
- an individual is quarantined with the expectation of returning to work once the quarantine is over.
There is a full Frequently Asked Questions (FAQ) for Covid-19 Expansion page on the Maine Department of Labor website. The link will take you to the Maine Department of Labor Unemployment page
Bath-Brunswick & Midcoast Business Updates
Brunswick Downtown Association's Operation Pick-Up
Created on March 18, 2020, this list consists of who's open, when they are open and what deals they have going on, if any. They do list businesses that are not open too and when they may re-open. This is a great resource for Brunswick businesses who are members of the BDA and they did great work in pulling it together. This list also includes non-members of the BDA further proving we are all in this together. The BDA update their list as needed, and typically daily.
SMMC's Facebook Group: "Midcoast Restaurant & Business Highlights during Covid-19"
Mirrored after a Facebook group created by the KV Chamber (Augusta) their page has over 1,200 citizens and businesses posting their own business updates regularly (it launched about a week before ours).
This is a way for you to promote your business updates and as a citizen to see which businesses are open. This chamber Facebook group is open to businesses in all 16 communities that our chamber covers as well as citizens- and you do not need to be a member to join the group or to post. Log on to the title link to join the group and read through all of the listings. Like and share your favorite updates with your Facebook friends and families and invite them to join too.
Main Street Bath's Business Google Doc
Main Street Bath has a business update Google document that is constantly getting refreshed with new information on who's open and when in the Bath area. Great job MSB on pulling this together and thanks for sharing it.
Support Brunswick
Fred Horch, members of the Brunswick Rotary Club and other community members have started a local resource guide called Support Brunswick. Broken down by industry this resource is updated as needed, and typically daily, and lists organizations in the area and either:
- What their needs are (usually specific items)
- What the opportunities are (usually volunteer opportunities or programs being considered)
- What services they provide (including new programs initiated to combat Covid-19)
United Way of Mid Coast Maine's Urgent Needs Fund
United Way of Mid Coast Maine has announced creation of a special COVID-19 Urgent Needs Fund. 100% of donations will go to local agencies and initiatives meeting the increased needs of local people during the pandemic. To donate securely online, go to their website by clicking on the title link, or you can send a check to United Way, 34 Wing Farm Parkway, Bath ME 04530. To see the full press release click here.

Local, State and Federal Pronouncements and Orders
State of Maine Re-Opening the Economy Plan (Released April 28, 2020)
Here is the critical press release for the four phase re-opening of the Maine economy. This is a month-by-month approach which works to balance public safety and re-opening the economy. Covid-19 Precaution checklists should be released soon by DECD
Town of Harpswell Emergency Order for Non-Primary Resident Lodging (Effective through April 30)
The Town of Harpswell sent over this notice and asked us to make everyone aware. The full wording includes special exclusions to this order (such as healthcare workers, domestic violence safe housing) and other special circumstances. This is essential reading for all Harpswell residents (primary, secondary and perspective) and businesses alike.
Governor Mills Stay Healthy at Home Mandate (Effective through April 30)
On March 31, Governor Mills declared an Executive Order limiting certain activities and enforcing stricter social distancing guidelines to protect our citizens. This order includes regulations on the size of stores and how many occupants they can have at any one time.
Town of Brunswick Shelter In Place Order
As issued on March 23, 2020 this order restricts non-essential businesses from being open.
Important to note: Business may have one employee on-site doing essential job functions if not open to the public.
Also, RESTAURANTS may continue curbside pickup, or drive-thru food service but customers may not eat on-site. Pre-order and online/phone payment is required for restaurant takeout and curbside pickup. Click on the title "Town of Brunswick Shelter in Place Order" to see the full order.
Governor Mills 14-Day Non-Essential Business Closure Executive Order (Original order)
Similar to the Town of Brunswick ordinance, this executive order by the Governor also has a list of what essential and non-essential businesses are. Here is the Maine State Chamber summary of the executive order which includes a link to the full 13-page decree.
Other Covid-19 Updates & Resources
Essential & Non-Essential Business Designations (As of the 04/03/20 update)
Which businesses are essential and non-essential? Find out here.

Appealing Your Non-Essential Status
Businesses can appeal their status if they can prove they are an essential need. Click on the title link to fill out the form and await your review. Reviews typically take 2-3 business days.
Maine State Chamber Business Updates Page
Put together by the Maine State Chamber's team, this page has almost daily updates of the latest news from the Governor's office as well as other federal and local updates too. A good daily check-in spot for what's happening and a great resource for legitimate news stories and media updates about the pandemic.
Pay It Forward Maine: Best Practices to Support Businesses
Our chamber has partnered with the Portland Regional Chamber, who originated this program, on a best practices campaign called Pay It Forward Maine. It includes, hints, tips and suggestions on how we can help businesses by buying gift cards, curbside to go programs, and ways you can donate to organizations. Two dozen or more organizations have partnered on this as well.
Along those same lines you can read here a best practice suggestion from Executive Director Cory King that ran in our weekly SMMC News & Notes e-newsletter on March 14.

Better Business Bureau Coronavirus Site
This site features scams to look out for and a collection of recommended business practices from around New England and the country.