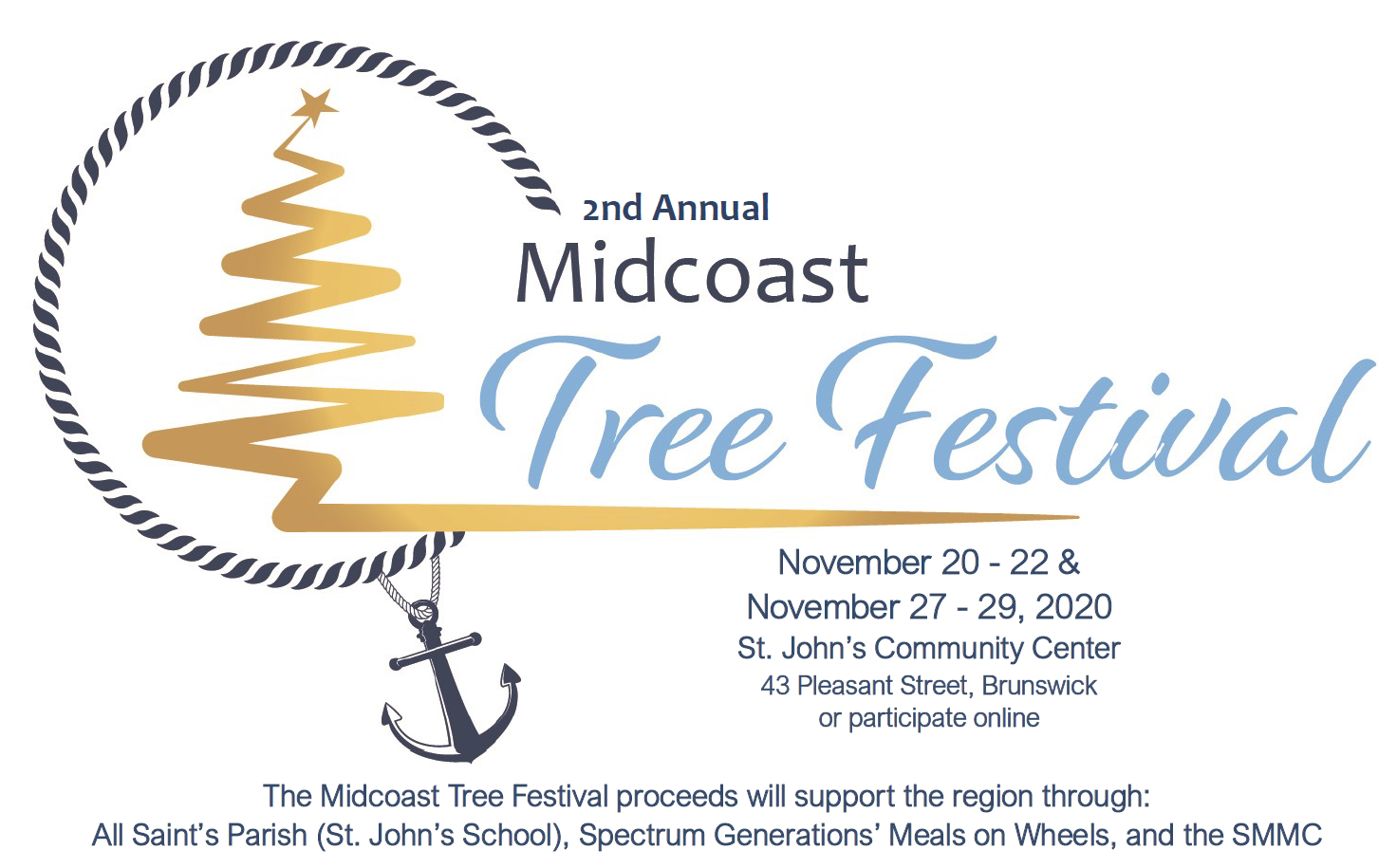 Fully decorated, themed and lighted artificial trees will be displayed, with gifts, and raffled at the end of the two-weekend Midcoast Tree Festival in Brunswick, ME. New for 2020 there will be a completely online way to participate where you can view the trees online and purchase your tickets online. One of our elves will take you order and ensure your tickets get entered.
The Midcoast Tree Festival website is still under development. Once the site is active we will publish the address here (likely around November 1).
What Is the Midcoast Tree Festival?
A new tradition began last year and we are looking forward to bringing it back in 2020. The 2nd Annual Midcoast Tree Festival is scheduled for November 20 - 22 & November 27 - November 29 with proceeds benefiting All Saints Parish, Spectrum Generations' Meals on Wheels, and the SMMC.
The Midcoast Tree Festival will showcase fully decorated, themed, and lighted artificial Christmas trees on display throughout the two-weekend event- the trees will get raffled off on the closing day of the Festival. Local organizations and businesses will contribute the trees and gifts, and each tree will have a value of at least $500 with everything on and under the tree belonging to the raffle winner, (unless otherwise noted which is extremely rare). Nonprofits are invited to participate as well, by donating wreaths, which will be displayed at the Festival entrance, and raffled as door prizes on the last day of the event. The wreaths will be purely decorative and have no gift requirement.
The event will be held at the St. John's Community Center located at 37 Pleasant Street in Brunswick (same location as last year). This year's event will also include a way to participate online with tree viewings online and even tree ticket purchases. Wreaths will remain as door prizes for those who attend in person. The Midcoast Tree Festival website is still under development. Once the site is active we will publish the address here (likely around November 1).
The in-person viewings will likely be with some reserved tree viewing times, as well as welcoming walk-ins as we anticipate limited capacity for in-person attendees (as of September 1 the limit is 50 people of indoor events). Therefore, holding this event both online and in-person we are calling it a hybrid event.

The hybrid event will allow for in-person viewing as well as a virtual option. In-person attendance will follow all state and local COVID-19 gathering guidelines. Plans for virtual attendance are being solidified among the partners and will be aligned with state gaming commission requirements.
Additional information can be found online at facebook.com/midcoasttreefestival.
For more information, please contact Cory King, at the Southern Midcoast Maine Chamber at 725-8797 or by e-mailing executivedirector@midcoastmaine.com
Businesses and organizations interested in registering for a tree space should contact Cory at the chamber. The registration link will go live on the SMMC website, www.midcoastmaine.com, on Tuesday, September 8. There are expected to be 36-54 tree spaces available depending on final layout and social distancing requirements

Click here to register your business or organization as a Tree Benefactor (these are the businesses who set up the trees and give the gifts). Registration opens September 8, 2020.
Click here to register your business or organization as a Wreath Benefactor
Click here for MTF Sponsorship Opportunities